Event Description
A Window of Opportunity to Meet with Mrs. Folorunso Alakija at the ROSF Youth Empowerment Program (NOV 2019)
The Rose of Sharon Foundation (ROSF) presents a Window of Opportunity to Meet with Mrs. Folorunso Alakija at:
The Youth Empowerment Program, Titled: 'The Big Picture, Harnessing the Power of Leverage'.
Are you ready for a paradigm shift? If yes, then join us for a transformative experience on
Date: Saturday, 30th November 2019
Time: 10:00 AM
Venue: Yaba College of Technology (Multipurpose Hall)
as Founder, ROSF, Mrs. Folorunso Alakija and seasoned speakers will be sharing valuable insight aimed at equipping graduates, undergraduates, job seekers, working-class and self-employed youths with the skill to enable them to succeed in their chosen professions.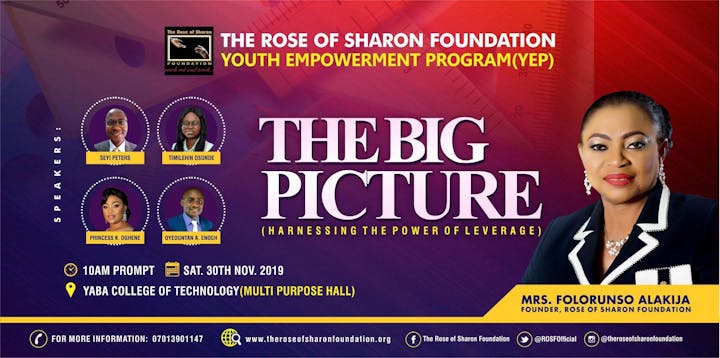 Visited 26 times, 1 Visit today